Volunteer Stories: Meet Patrick
We would like to introduce you to one of Healthwatch North Yorkshire's volunteers, Patrick. Patrick has been volunteering with Healthwatch North Yorkshire since December 2021.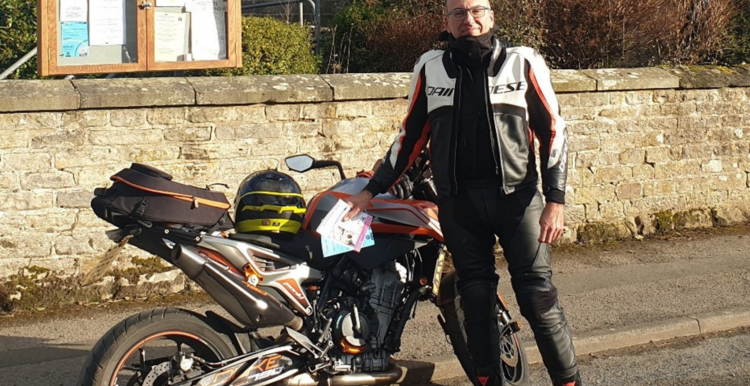 Patrick has been volunteering with Healthwatch North Yorkshire since December 2021. His contribution to our work has included survey design and proofreading documents. Also, in his spare time, he distributed Healthwatch North Yorkshire flyers to some community venues across North Yorkshire when he was out riding on his motorbike. 
Our volunteers are an essential part of the team at Healthwatch North Yorkshire, and we wouldn't be able to do what we do without their support. Over the next year, we will be distributing our new leaflets and posters to more community venues across the county, and we hope to encourage more volunteers to support us with this task. 
"My name is Patrick. I am a business improvement consultant and also a part-time doctoral student. I have been volunteering with Healthwatch North Yorkshire for about three months now. I decided to join Healthwatch North Yorkshire because it is local and aims to improve health and social care, which is dear to me.
I experienced first-hand health service when I had an accident a few years ago and required hospitalisation for a couple of weeks. During this challenging time, I had great support from my wife and the healthcare provider but at the same time felt vulnerable when things did not go right. I believe Healthwatch can make a difference by providing a powerful voice to patients and being a catalyst for change.
I have been involved in a few initiatives with Healthwatch North Yorkshire, such as survey design, and I am looking forward to visiting care homes to understand current challenges and opportunities. I am also keen to increase the visibility of Healthwatch North Yorkshire and have posted a few flyers on village hall boards whilst going for a ride on my motorbike.
I have been amazed by the professionalism of the Healthwatch staff and volunteers. It is great to see such passion, energy, and commitment."
If you are thinking of volunteering, I would recommend Healthwatch North Yorkshire. You can contribute as much or little as you want whilst contributing to the local communities. You will also meet brilliant health and social care professionals and have engaging debates and discussions. But more importantly, you will be able to influence change for the better.
If you would like to find out more about the volunteering roles we offer at Healthwatch North Yorkshire, download our volunteer role descriptions handbook.