LGBTQ+ People's Experience of Using Health and Social Care Services in North Yorkshire
Healthwatch North Yorkshire were approached by North Yorkshire County Council who requested a piece of research to increase understanding of the experiences and needs of the LGBTQ+ community when accessing mental health support.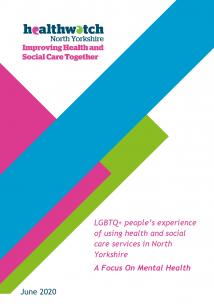 Summary
More than 200 people worked with the charity, which is the independent champion for people using health and social care services in the county, to highlight the issues they can face when accessing care.
Key themes:
Inequalities
Isolation
Language
Training
Improving services
Healthwatch North Yorkshire will continue to work with local health and social care commissioners and providers to ensure people's views and experiences are used to improve care for members of the LGBTQ+ community.