Our first life stories blog – Meet Esta
Healthwatch North Yorkshire spoke with Esta and her mum, Ruth, to hear about her experiences of health and social care.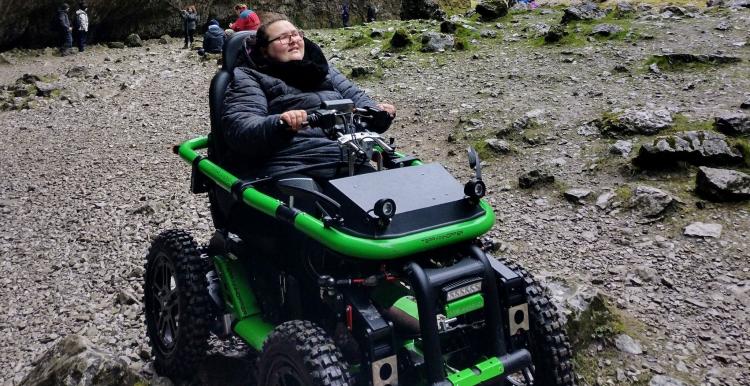 *Photo: Esta shared this image with us and said, "Thanks to this new charity, I got the opportunity to try out the terrain hopper in the photo, it was amazing and I had not accessed beautiful places in the dales for so long due to mobility". 
Visit Access the Dales for more information: https://www.access-the-dales.com/
Name: Esta 
Age: 25 years old 
Location: Skipton
Esta is a wheelchair user, and her health needs require 24-hour care. She has a genetic condition, autism, mental health issues, and a stoma. 
Esta's needs mean that she has had - and continues to have – regular contact with health and social care services. And this has involved some good - and some bad experiences! 
Since a young age, Esta has frequently found herself in different health and social care settings. Her needs require specific care and attention, and she has not always received the support needed by health and social care providers.  
Speaking with Esta, we quickly learned what a resilient, intelligent, and witty person she is. And it is no surprise, given her experience, that she has some advice for service providers to ensure better patient-centered care. 
Over the next five months, we will be posting blogs on our website that include a recommendation for health and social care providers. The blogs posted will correspond with conversations we've had with Esta and her mum Ruth. All the recommendations relate to Esta's personal experiences with health and social care.  
We believe that health and social care providers can best improve services by understanding patient experiences. By sharing Esta's experiences of health and social care, we can demonstrate how listening to real-life stories can help us identify what is working and what needs improving.  
The recommendations posted will indicate the importance for health and social care providers to ensure greater patient-centered care. It's vital that we listen to people's experiences and make sure that their voices are heard. By posting these blogs over the next five months we intend to let decision-makers know what needs to be improved!  
The following recommendations that will be published in the next five months include: 
Give patients a choice to make their own decisions where possible. 
Understand the patient's needs without making assumptions. 
Access to timely support and interventions to maintain a person's health and avoid deterioration. 
Better support and care for paid and/or unpaid carers. 
Ensure better ways of sharing information across health and social care systems.
If you are interested in sharing your story, or would like further information, please get in touch with us via email or by calling 01423 788 128.