Life stories blog: Give the patient a choice to make their own decisions where possible
This is the first recommendation for health and social care providers, based on our conversations with life stories participant, Esta.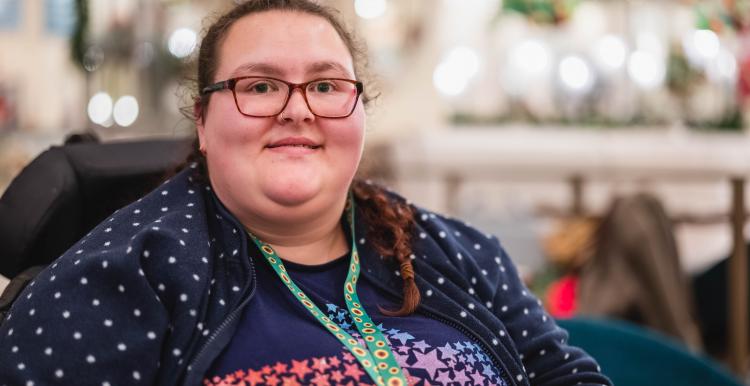 In our first blog, we introduced you to our life stories blogger Esta. Esta has had many interactions with health and social care professionals and her experiences have helped her understand what she needs and wants from health and social care services.
As a result of our conversations with Esta, we will be posting one blog a month which includes a recommendation for health and social care professionals.
First recommendation: give the patient a choice to make their own decisions (unless it is impossible).
Health and social care providers must allow patients to make their own decisions as much as possible. Everyone has their own needs and being listened to and given a choice makes a huge difference.
In the past, Esta has had to fight to get the things that she needs the most. For example, she told us about when she asked for a powered wheelchair, she was told that she didn't need one as she wasn't going out anywhere. This was when she was studying at university. She had to fight to get a suitable powered chair, which took a lot of pestering and perseverance. Esta was constantly given broken, old chairs or ones that were faulty and not suitable. Despite asking repeatedly, it took a lot, including a number of breakdowns, for Esta to get a powered chair.
"One time I was at a park and the battery died on my chair, so I had to be pushed. And another time this happened at Morecambe pier."
Esta told us how important it was for her to be given a choice.
Little things make a huge difference.
Esta wears support stockings and she told us how she had the choice to decide on what colour stockings she would like (purple). This made a huge difference and made them feel like personal items rather than beige medical products. This might seem like a small thing, but for Esta, it made a huge difference and shows why giving patients' a choice in every stage is important. 
Whilst the little things have made a huge difference, it's also the more serious choices that Esta has been involved with. When she was in hospital after her stoma surgery, Esta talked to the pain team about how she was feeling and made it very clear that she wanted low-level painkillers and nothing addictive (if possible). She was listened to and felt like she had better control over her care. 
Some decisions might seem unimportant or trivial, but these make a huge difference to people receiving care. Being in and out of health and/or social care settings can be hugely daunting and health and social care providers must make patients feel at ease and in as much control as they can be.
Another positive choice for Esta was the option to have her appointment with a doctor in person, or by telephone. Esta was delighted to be given the options and, as things were stable, she was quite happy to have the appointment over the phone. It saved on travel and put Esta in control again.
No one wants to have things done to them, especially when they are in contact with health and care services regularly. It's about working together with health professionals to find the best solution. Working together with healthcare and care professionals as a team where everyone's voice is heard, and the person is put first makes people feel more at ease and supported.
Understandably this is not always possible, and health and care professionals are trained to make important, and what they view as the best decisions for their patients. However, even allowing patients to decide on small things can make a big difference and make sure people feel like a person, not a patient or a condition.