Healthwatch North Yorkshire Shortlisted for prestigious national award
Healthwatch North Yorkshire has been nominated for a prestigious national award for ensuring local-decision makers understood the challenges people were facing to see an NHS dentist and the changes needed to improve access.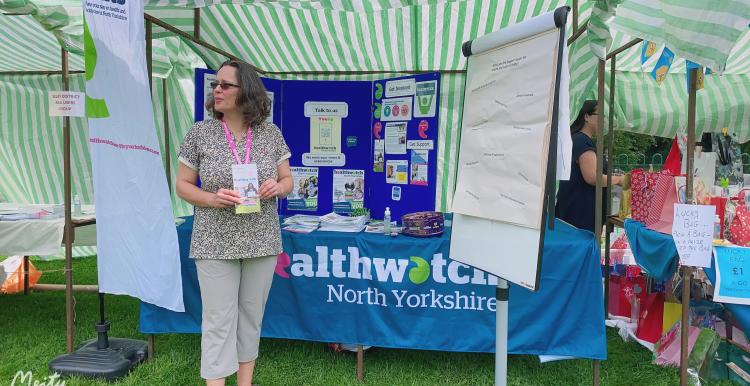 Healthwatch North Yorkshire was shortlisted under the 'Engagement' category in the Healthwatch Awards 2021, which are run by Healthwatch England.
This annual event celebrates the difference Healthwatch's 4,000 plus staff and volunteers across England have made over the past year. Healthwatch North Yorkshire is one of only 30 local Healthwatch out of a total of 152 across England to be in the running for one of the awards.
Healthwatch North Yorkshire will find out whether its award bid has been successful during Healthwatch Week, which runs from Tuesday 9 November 2021.
Ashley Green, CEO of Healthwatch North Yorkshire, said: "We are delighted to be shortlisted for this Engagement award. It's been a turbulent year for us at Healthwatch North Yorkshire - with the pandemic and not being able to engage with people in our usual way. 

This nomination shows how hard the team and our volunteers have worked to make sure that the voices of people across North Yorkshire are at the forefront of health and social care services."
Dentistry remains the topic we hear the most about from people across North Yorkshire, with many still unable to access an NHS dentist. So, this project was important, as it provided an opportunity to work with dental commissioners and to hear what people in Scarborough wanted, and more importantly, need.
Sir Robert Francis QC, Chair of Healthwatch England, said:

"This year once again the standard of entries for the Healthwatch Week awards was extremely high. Your local Healthwatch has been shortlisted because of excellent work which has really benefited your community.

"I am extremely proud of the inspiring dedication shown by our staff and volunteers to making a real difference for your community, whether that be by reaching out to those whose views are not being heard, helping people find the support they need or making sure NHS and social care services act on the improvements that you want to see."
Like their colleagues across the country, Healthwatch North Yorkshire staff and volunteers have been supporting their local community more than ever through the coronavirus pandemic by:
Finding out what people like about health and social care support, and what could be improved
Helping people find the information they need about services in their area and;
Encouraging those in charge of NHS and social care services to make the changes that communities would like to see.
In addition, in response to the pandemic, the team at Healthwatch North Yorkshire has also been keeping the public updated with relevant news and information, including information about self-isolating, testing, and the COVID-19 vaccination programme. They have produced over 10 reports, so far this year, focusing on topics such as dentistry, GP services, care homes, and COVID-19. To find out more, visit the website.
More information about the Healthwatch Week Awards shortlist can be found here on the Healthwatch England website.