COVID-19 and Care Homes: Lessons from an unprecedented time
Our latest report shows how many care homes across North Yorkshire made innovative changes to keep their residents safe and well even when they faced acute and often devastating challenges at the height of the Covid 19 pandemic.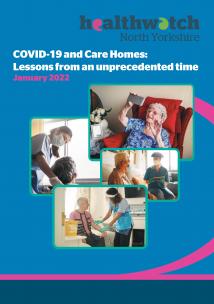 We interviewed five care home managers to find out the innovative ways that care homes have responded to COVID-19. The report shows that many of these changes have had a long-term positive effect.
Summary
This project explicitly looks towards the positives and presents these with the intention that they can be carried forward into the COVID-19 recovery period and beyond.
The hope is that by sharing these lessons among the care home sector, we can contribute to improvements in care for the people who live in care homes.
Care homes were among the hardest hit by the COVID-19 pandemic. This was particularly related to the fact that residents of care homes are among the most vulnerable to the virus, requiring care involving close contact.
Speaking with care home managers, we have heard about fantastic, innovate ways that homes have responded as a result of the COVID-19 pandemic, to keep their residents as safe as they can. 
Key themes:
Time – With the theme of time, we take aspects of responses that have involved changes in orientation to time. For example, this includes more time spent with residents, on infection control, or in consideration of what is used in day-to-day care.
Space – With the theme of space, we take aspects of responses that have seen changes in the use of space. For example, this includes developing new spaces, transforming old ones, and changing the use of space both internal and external to the home.
Communication – With the theme of communication, we take aspects of responses that have changed how care homes communicate with and between different groups. This includes management and staff, staff and residents, management/staff with family and loved ones, and residents with their family and loved ones.
Healthwatch North Yorkshire would like to thank all the care home managers who gave up their time and participated in this project – their stories of perseverance and dedication have been an inspiration. This project has been supported by the Working Group who has provided guidance and support throughout this project. Special gratitude goes to the team of our amazing volunteers who have contributed much time and effort to this project.
For more information or to share your comments please get in touch via email or by calling 01423 788 128.