Being healthy: Ideas and reflections from Scarborough January 2022
As a result of our collaborative work with SeeCHANGE, we have produced this report from the feedback we received from people in Scarborough. The report gives insight into the attitudes of local people to health + wellbeing as well as local services.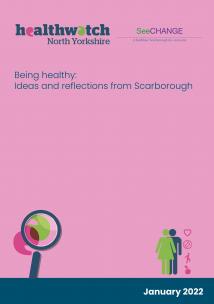 Summary
To hear the views of people in Scarborough, we worked with SeeChange to get a broad view of people's views of good health, their experience of keeping themselves healthy, and their interactions with health services.
We carried out a range of activities to get the feedback and views of the Scarborough people. Our engagement consisted of a survey, focus groups, and engagement events at a local football match, the University campus, and a GP surgery.
Nearly 300 people responded to tell us why good health is important to them, their views on local services and what could help them to be even healthier.
Conclusions
Key issues: GP services, NHS dentists, delayed treatment and services moving away from Scarborough have been highlighted as some of the top priority issues.
It is clear that health is important to the people of Scarborough and many would like to be healthier if possible.
Lack of time, lack of motivation, lack of help with other life stressors and lack of specialist support for people with health conditions/ disabilities appear to be some of the main barriers to people being healthier.
A large majority of people are already taking action to try to be healthier but would like more support regarding this, from cheaper and more inclusive exercise options to increased accessibility and awareness of services.
Thank you to SeeCHANGE partners for sharing and circulating the information and also to everyone who responded to our questions and helped us understand the attitudes of local people to health and wellbeing as well as local services.
For more information or to share your comments please get in touch via email or by calling 01423 788 128.