An oral health crisis: the impact on people's health and well-being
This latest report outlines the profound impact of not being able to access an NHS dentist on the lives of more than 80 members of the public.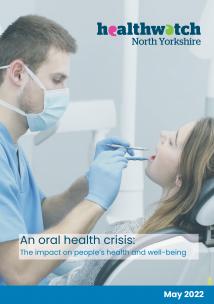 Summary
Since the core issues relating to access and availability of NHS dental services are already well documented, this report instead takes a different angle by exploring what impact this dentistry crisis is having on people's health and well-being. We have gathered 85 case studies over the last two months which uncover the pervasive impact on many different aspects of people's lives and the actions people have resorted to as a result of not being able to access an NHS dentist.
Most of the issues raised are identical to those highlighted in Healthwatch North Yorkshire's last dentistry report, published in summer 2021.
The case studies presented in this report reiterate the severe issues facing people across North Yorkshire. To hear the drastic measures people have resorted to after not being able to access an NHS dentist is harrowing.
Recommendations
An oral health task force is established for North Yorkshire that aims to tackle the underlying issues we have identified, both in this report and our previous report last year.
There is a collaborative approach to addressing oral health across the Humber & North Yorkshire Integrated Care System to ensure the commissioning of services meet the needs of the wider population.
For more information or to share your comments please get in touch via email or by calling 01423 788 128.