NHS App Engagement Report July 2022
In December 2021, Humber Coast and Vale Health and Care Partnership commissioned Healthwatch North Yorkshire £10,000 to help with the promotion of the NHS App. As a result we have produced this report to show our engagement and promotion activities.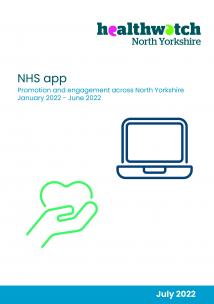 Summary
We have been sharing these materials to raise awareness of the NHS app and share the benefits to encourage people to download and use the app. We have been actively promoting the app through our social media channels - including Facebook and Twitter – sharing articles in our monthly newsletter and speaking with people at the many events we have attended over the past 5 months.
To find out the full details of our engagement and promotional activities, please download the report below.