Policy Vs. Reality: Interpreting in Health and Social Care Services
Health services in North Yorkshire are improving the translation services they provide after Healthwatch North Yorkshire highlighted inequalities faced by refugees attempting to access care in the county.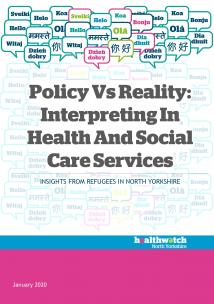 Summary
This project report aims to highlight the difficulties in access to interpreter services within healthcare systems in North Yorkshire. Our findings are based on insights we heard from more than 40 refugees in North Yorkshire. We also carried out our own mystery shopping exercise at 25 pharmacies across the region.
Key themes:
Difficulties understanding the healthcare system.
People had better experiences when an interpreter service was offered.
Interpreter services are not routinely, or sufficiently, offered.
Problem with the irregularity of provision.
Quality of interpretation or method can be unclear or unhelpful.
Not a choice of gender-appropriate interpreters.
Appointments take longer with interpreters.
Not a clear booking system for patients attempting to book interpreter services.
We will be reviewing the impact of the research findings by keeping positive and collaborative working relationships with stakeholders. We also ensure that any information we receive is fed directly to Healthwatch England to be monitored at a national level as well as at a local level.
York Teaching Hospital NHS Foundation Trust, which runs hospitals including York, Scarborough, Malton and Bridlington, has issued an action plan responding to the findings of our report. The trust, which provides a comprehensive range of acute hospital and specialist healthcare services for approximately 800,000 people living in and around York, North Yorkshire, North East Yorkshire and Ryedale, has identified several areas where it needs to take action in response to our recommendations. Some areas were outside the trust's remit, or the trust found it was already meeting the recommended standards.
Improvements have already been made – last month (May 2020), the trust introduced video remote interpreting for spoken language and British Sign Language for video-led outpatient clinics. It has also pledged to remove the use of Google Translate from its website, which is being improved to ensure it can be accurately translated into more than 100 languages, including all patient information systems. Work will continue to translate the trust's most commonly used leaflets into the most commonly requested languages
Staff will be given more training on how to support patients to access interpretation services, on a regular basis to ensure new members of staff are up to speed. Information on how to use interpreter services is already available to staff, and the services have been promoted at both York and Scarborough hospitals.
Work will continue to improve the trust's computer systems to help staff identify patients who will need interpretation support.
The policies will apply to all sites managed by the trust, while support for patients who access community nursing teams is also being looked at.