Test-and-Trace Briefing December 2020
This briefing focuses on Test and Trace, drawing on the results of our most recent COVID-19 briefing published in November, and updated from feedback gathered this month.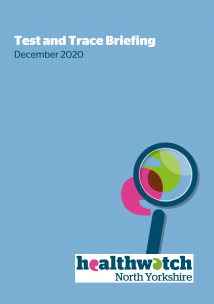 Summary
An eighth (12.3%) of our feedbacks and signposting since July have been related to testing. Of this feedback, there has been much frustration regarding Test and Trace, with a lack of clarity of guidance (41%), inability to access tests (34%), and a failure of the track and trace system (16%) being the main issues raised.
Key findings:
Confusion over guidance
Unavailable tests
Track and trace failures
Improving the test and trace system
It is confusing with the local restrictions in place. The ward 'Craven' in Bradford is under local lockdown but the district of Craven in North Yorkshire is not and it is confusing knowing what you are allowed to do and how you are allowed to interact with people in neighbouring areas.
Organisers from the DHSC recognised the importance of the feedback they received and provided assurances that efforts were being made to improve the situation. This includes the expansion of community champions to provide up-to-date guidance, improving locations of testing sites, looking at who performs the tests and exploring improved methods of testing to improve people's accessibility.
Healthwatch North Yorkshire welcomes the improvements that DHSC are undertaking. We will continue to work with local and national organisations to improve the system of Test and Trace and monitor feedback from patients and the public in North Yorkshire to ensure their voice is present in Health and Social Care decisions.