COVID-19 in North Yorkshire: April 2021-July 2021
The COVID-19 pandemic has exposed some of the frailties of the health and social care system. This report focuses on some of the common health and social care issues we heard about between April and July 2021.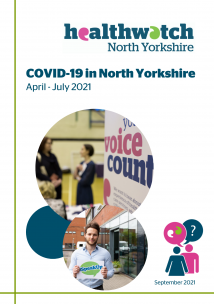 The prominence of COVID-19 as a challenge to health and social care has begun to recede, and lockdown restrictions have now hopefully been lifted on a permanent basis. 
Summary
We have recorded 521 pieces of public feedback and/or signposting in the four months of April 1st to July 31st, hearing from 544 people. This feedback has formed the basis of this report. 
We continue to help and support members of the public and gather their feedback to help inform decision-makers (via reports like this one).
This report indicates some of the key themes we heard about between April and July 2021. 
Key themes: 
Dentistry
COVID-19 Vaccination Programme
GP Services
Hospitals
Mental Health Support
COVID-19 in North Yorkshire
Healthwatch North Yorkshire would like to thank everyone who has contacted us, left feedback, or participated in our research and engagement activities. Our work is supported by the amazing efforts of our volunteers. We will continue to gather feedback and help support patients and the public across North Yorkshire.