Scarborough Acute Services Review: Early Engagement with Seldom Heard Groups
Acute services at Scarborough Hospital face a series of challenges, requiring a review of how health and care provision is delivered.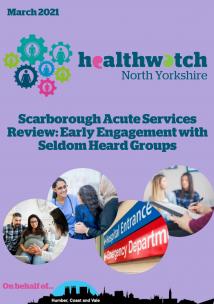 Summary
In 2019. we were commissioned to undertake four focus groups with 'seldom heard' groups to ensure a wider range of voices were heard as part of the early engagement activities. 
Due to COVID-19 and other issues, thre were several barriers that forced the reduction in scope of this work. This report covers the results of two focus groups - with Refugees and Asylum Seekers, and people from Eastern Europe - on their views and experiences of maternity and paediatric services at Scarborough Hospital. 
The accounts collected for this report are thought-provoking accounts of perspectives through which decision makers, as part of the Scarbrorough Acute Services Review, can consider as part of the wider impact of any potential proposals on groups who are often less heard in healthcare decision-making.