Healthwatch North Yorkshire Annual Report 2021-2022
Our Annual Report for 2021-22 provides a summary of the many things we have undertaken, achieved, and will continue to champion over the coming year.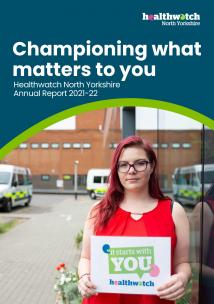 Summary
A huge thank you to everyone who shared their views with us. Without your insight we wouldn't have been able to make change happen and champion what matters to you.
Our relationships across health and social care have also been important to us and we have strived to continue building these across the system to ensure we play an instrumental role in bringing public insight and opinions to the forefront of decision-making.
Highlights from our year
3,304 people shared their experiences of health and social care services with us, helping to raise awareness of issues and improve care.
76,207 visits to our website from people who came to us for advice and information about topics such as COVID-19 and NHS dentistry.
We published 8 reports and briefings about people's experiences and the improvements they would like to see.
We're lucky to have 80 outstanding volunteers, who gave up 157 days to make care better for our community.
We're funded by our local authority. In 2021-22 we received: £167,459 Which is the same as the previous year.
We currently employ 5 staff who help us carry out this work.
I would like to thank our staff, volunteers and board members who have worked incredibly hard to make the last year an eventful year for us all. Alongside this, I would like to thank all the people across North Yorkshire who have shared their health and social care experiences with us, for example over the phone, by email, via our website, at our outdoor events or by taking part in our surveys and focus groups.
Our priorities 2022-2023
We have finalised our priorities for 2022-2023 to ensure that we continue to understand the needs and experiences of people across North Yorkshire who use health and social care services and to speak out on their behalf.
Find out more by clicking here.
Annual Report 2021 - 2022
If you need more information about our annual report or would like to get in touch, contact us via email at admin@hwny.co.uk or call 01904 552 687.